We offer a multidisciplinary approach to treating pregnancies with fetal abnormalities and work with your obstetrician in planning management of pregnancies complicated by maternal disease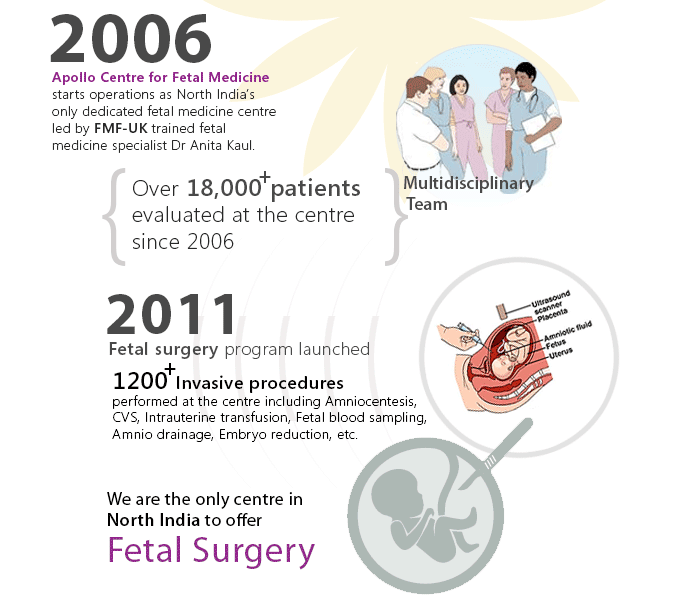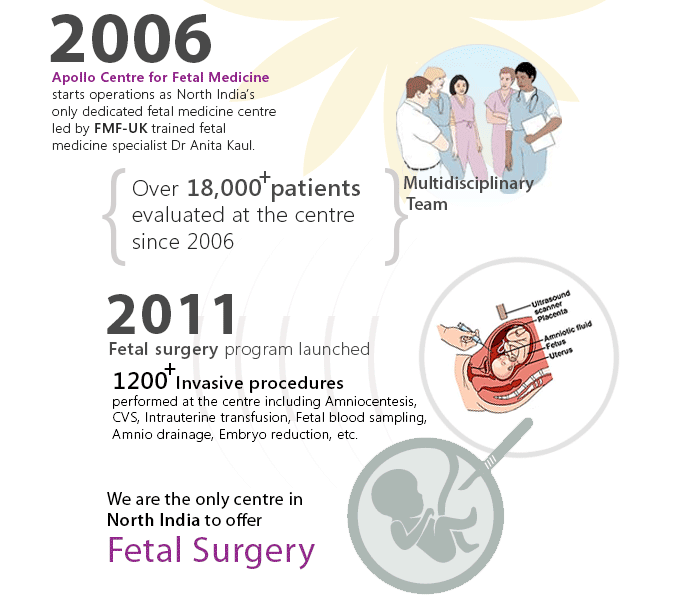 Our team is among the most experienced in India at treating complex birth defects.
We are the only fetal centre in North India offering comprehensive care from diagnosis to in utero treatment to delivery to postnatal surgery, including paediatric cardiac surgery, all under one roof.
We are available 24X7 and from the first phone call we can start coordinating all the services you may require. A team approach with our allied specialties is offered if necessary so that you and your fetus receive the best solution to any problems that your baby may be facing.
We have seen over 18000 patients since August 2006, many with complex fetal problems and complicated pregnancies and our experience with treating such patients keeps growing.
We constantly work to improve and advance both our fetal diagnosis and therapy techniques.
We were the first centre to establish and propagate the first trimester combined Down syndrome screening programme according to Fetal Medicine Foundation criteria in India and regularly conduct internal and external quality control audits to ensure that our prenatal screening service is running effectively.
We treat a wide range of fetal problems including in utero medical and surgical therapy.
We have a dedicated Fetal Cardiac Service offering prenatal diagnosis, counseling and subsequently pediatric cardiac surgery as necessary.
Our neonatal intensive care unit is led by 4 senior neonatal consultants who have several years of experience in taking care of preterm and growth restricted babies as well as babies who have been operated on for a variety of birth defects.
We work closely with your referring doctor and provide support services to them so that the pregnancy outcome can be optimized. It is possible for many expectant mothers to be monitored as on an out patient basis during their pregnancy.
We educate other doctors about fetal conditions and treatment through our many CMEs and workshops. We also run a Fellowship programme in Fetal Medicine in association with Prof. Kypros Nicolaides and the Fetal Medicine Foundation, UK (FMF-UK)
We maintain international standards of fetal care and follow the FMF-UK and the International Society of ultrasound in Obstetrics and Gynaecology (ISUOG) guidelines in all our practice.