Fetal Medicine CME in Faridabad.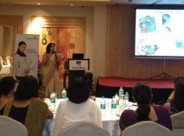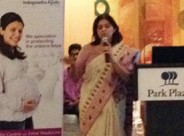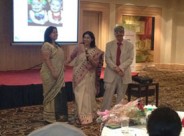 Fetal Medicine – as a specialty in itself has recently gained acceptance in India. A huge part this awareness would be because of the untiring efforts of Dr Anita Kaul.
A CME was held in Faridabad on 30th March 2012, to update the obstetricians about the standard of care now followed in the west – 'The Twelve Week Fetal Clinic'- a subject which she is extremely passionate about.
Dr Anita Kaul highlighted the importance of 'Inverting the Pyramid of Care'.
The antenatal care (16, 24, 28 weeks, fortnightly until 36 weeks and weekly thereafter) till date was dictated by a Memorandum on Antenatal Clinics, Ministry of health, UK in 1929. No explicit rationale was offered for the timing/ clinical content of the visits. The high concentration of visits in the late 3rd trimester implied that most complications occur towards the end of pregnancy. However, the advances in the last 20 years have raised the hope that many pregnancy complications are potentially detectable from at least as early as the 12th week of gestation- thus INVERTING THE PYRAMID OF CARE.
Log on to http://www.fetalmedicine.com/fmf/pyramid.pdf for details.
Dr Vikas Kohli, emphasized on the prevalence of congenital heart defects in the general population and reiterated the importance of early Fetal Echo-cardiography in the antenatal diagnosis of these defects for successful neonatal outcomes.
Dr Tulika Tayal dealt with the commonly asked questions of multifetal pregnancy: The protocol of increased surveillance and antenatal care, Optimum timing and mode of delivery in Dichorionic/Monochorionic/ Mono-amniotic twins, Impact of chorionicity on outcomes, etc. She also discussed a case of Twin to Twin Transfusion Syndrome which was successfully managed by Laser Coagulation at the Apollo Centre for Fetal medicine.