Twin Pregnancy – Risk Stratification : Need of the hour !
comprised of multiple pregnancies especially in the setting of rising trends due to advanced maternal age and Assisted Reproductive Techniques(ART).
Multiple pregnancies contribute significantly to perinatal and neonatal mortality and morbidity and need specialised antenatal care .
The twin pregnancy needs to be classified as the following: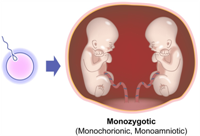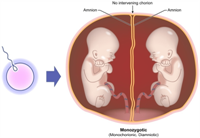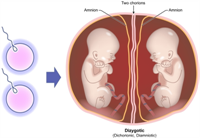 It is very disheartening on this day and time to come across ultrasound reports at 12-14 weeks without a mention of chorionicity. The chorionicity is identified by the classic signs of
Lambda Sign in Dichorionic Twins(DCDA)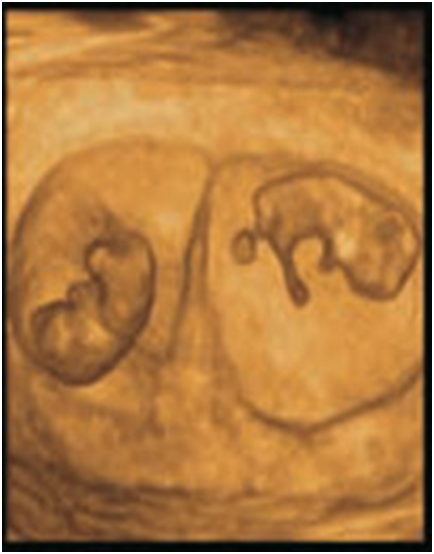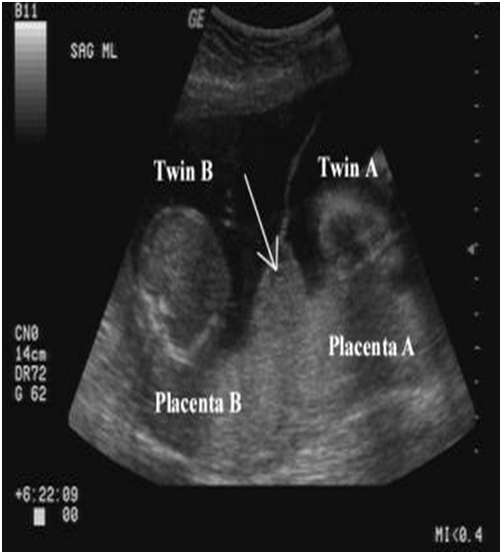 The "T" Sign in Monochorionic Diamniotic (MCDA) Twins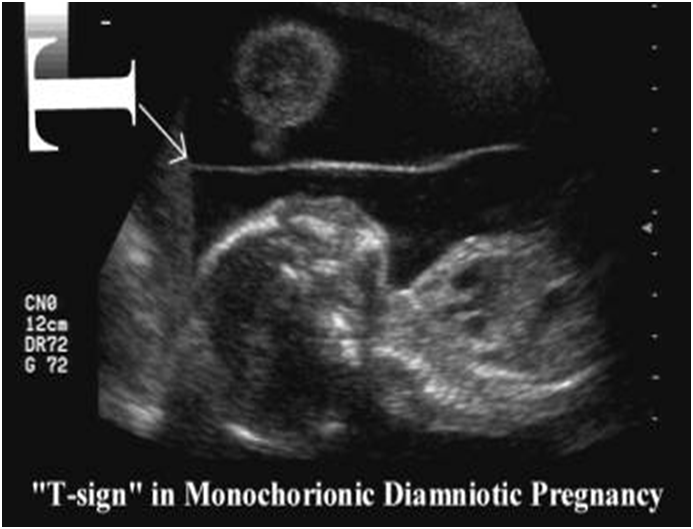 A brief review of the importance of identifying the chorionicity at the time of First Trimester Screening is highlighted by the following differences between the Monochorionic (MC) and Dichorionic Twins(DC):
| Complications | DC | MC |
| --- | --- | --- |
| Miscarriage (11-23 weeks) | 2% | 10% |
| Perinatal death (>23 weeks) | 2% | 4% |
| Preterm delivery (<32 weeks) | 5% | 10% |
| Fetal growth restriction | 20% | 30% |
| Major defects | 1% | 4% |
In view of the increased complications in multiple pregnancies in general and Monochorionic Twins in particular, RCOG suggests 2 weekly growth scans in MCDA twins and 4 weekly growth scans in DCDA Twins.
It is fortunate that once the complications are diagnosed, effective intervention therapy in the form of Laser Coagulation of anastomosing vessels in Twin to Twin Transfusion Syndrome, Laser Ablation of the interstitial vessels in the Acardiac Twin, decision of early delivery in severe IUGR, these pregnancies can be salvaged well in time and a favourable prognosis can be expected.
We routinely come across such complications, some fortunately referred to us at the right time, whereas the others at a stage when the in-utero demise of one twin has already damaged the living co-twin. Read about two of our recent cases at:
http://www.facebook.com/fetalmedicineindia?ref=hl#!/media/set/?set=a.362269117174982.81691.137389039662992&type=1