The CME on Ambiguous Genitalia on forenoon of Sunday 6th of June 2010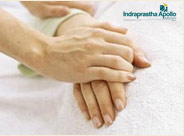 The CME on Ambiguous Genitalia on forenoon of Sunday 6th of June 2010. It was heartening to see an overwhelming response from Fetal medine specialists, Radiologists, Neonataologists, Pediatric Surgeons and Obstetricians not only from Delhi and NCR but also from cities like Aligarh, Panipat and Varanasi.
The meeting started with a overview of the latest classification of Disorders of Sexual Differentiation (DSD) by Dr.I.P.S.Kocchar, Senior Consultant Pediatric Endocrinology, Indraprastha Apollo Hospitals. Dr.Kocchar explained the clinical relevance of the new classification system and set the platform for the morning. This was followed by a talk on the 'Embryology of the reproductive tract and physiology of Sexual Differentiation' by Dr.Chinmayee Ratha, Consultant, Apollo Centre for Fetal Medicine. She described the steps of embryonic development in a graphic presentation that elucidated the normal pathway of sexual development and differentiation.
The highlight of the meeting was the exemplary presentation by Dr.B.S.Ramamurthy, Senior Radiologist, Srinivasa Scanning Centre, Bangalore, on 'Antenatal imaging in Ambiguous genitalia: What all is possible?" He mesmerised the audience with his illustrative talk on antenatal detection of fetal problems involving ambiguous genitalia. He emphasised on the holistic approach in establishing the diagnosis in such cases so as to identify syndromes and help in establishing prognosis in this pregnancy and recurrence patterns.
Dr. Anita Kaul, Senior Consultant & Clinical Co-ordinator, Apollo Centre for Fetal Medicine, made a comprehensive presentation on the latest developments in Fetal Therapy in cases of Congenital Adrenal Hyperplasia. This is again, one of those areas where proper preconceptional counseling, early pregnancy fetal intervention, prenatal genetic diagnosis and follow up can make a huge difference in clinical outcomes.
The audience was alert and active throughout the talks and participated enthusiatically with relevant questions and comments. The best part of the CME was the multidisciplinary panel discussion which was moderated by Dr.Anita Kaul.
Dr.Sushma Kaul, Senior consultant Neonatologist, Indraprastha Apollo Hospitals, deliberated on various aspects surrounding ambiguous genitalia in the newborn like dillemmas in gender assignment and the need for a complete work up of the case while managing parental stress. Dr.Monica Chib, Senior Consultant Psychiatrist, Indraprastha Apollo Hospitals, emphasised on the need to sensitively counsel the parents and to allow time for the process of gender assignment sometimes even upto the pubertal age so that gender identity problems are avoided. She shared her experience with such patients and the audience was equally receptive and interactive in sharing their concerns in these rare but dillemmatic situations. Dr.Sujit Choudhury, Senior consultant Pediatric Urologist/Surgeon, with a vast experience in surgical interventions to correct genital malformations reaffirmed that while much can be achieved in genital reconstruction through surgical finesse,the holistic treatment of these conditions is much beyond mere physical correction. Dr.Ramamurthy presented a few cases with ambiguous genitalia with discordant gender assignment and the consequent conflict in genital sex and gender identity.Dr.Kochhar also shared his experience in long term treatment of such patients.
Dr.Anita Kaul actively moderated the session and encouraged audience involvement. There was a general consensus on involving counsellors early on in the management of newborns with ambigious genitalia.Ideally, there should not be any pressure on parents and doctors to perform corrective surgeries early in childhood rather,in this age of increased gender awareness and expression of gender dysphoria ,it is better to postpone gender assignment till the individual can take his or her own decision.
A multidisciplinary team is the best way to manage these cases and the meeting concluded with an opening of minds and a desire to provide the best care to cases with Ambiguous genitalia.